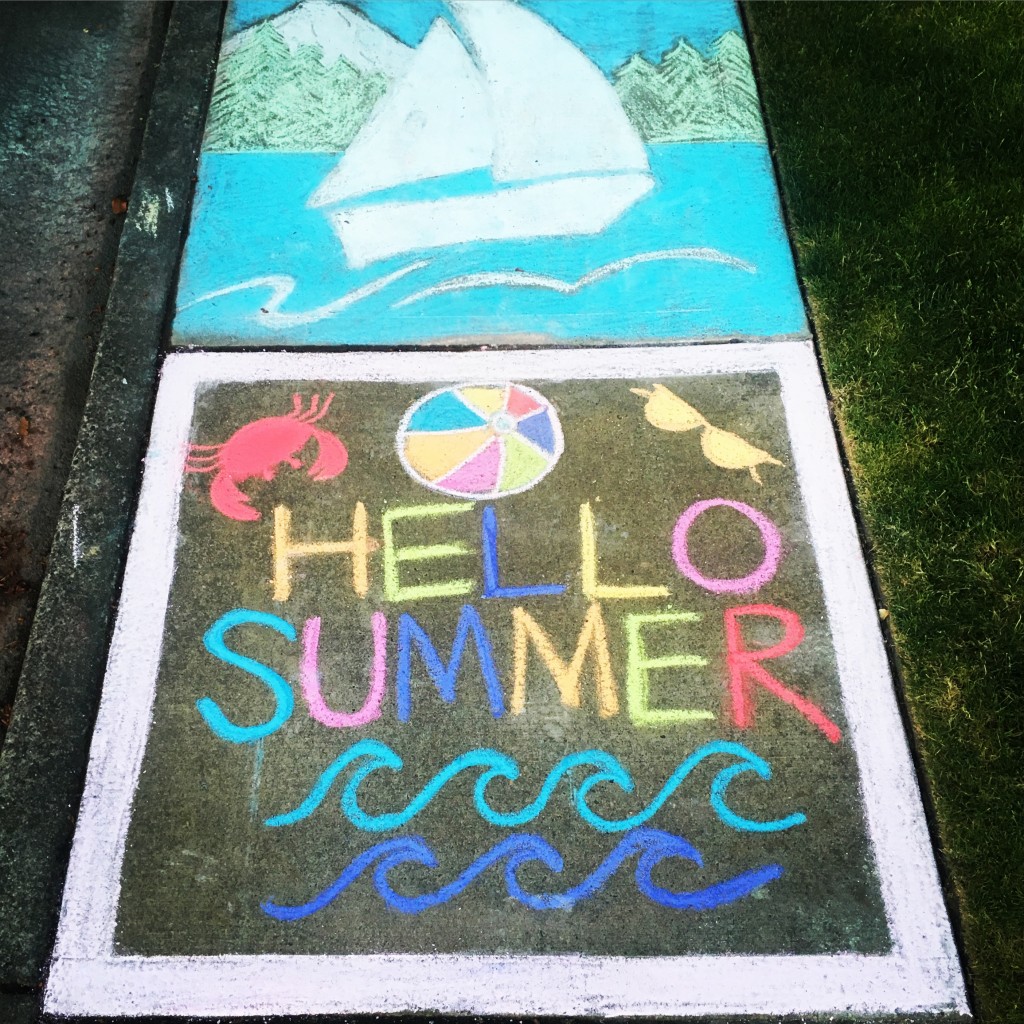 Dearest Hallinan Families,
What a fantastic end to a wonderful year at Hallinan – and what love and kindness you all showed in my final days here.  I have been truly honored to be your principal for the past four years.  Thank you for the gift of your children that inspire us every day!  I know that I am moving to a place that is full of new learning and more amazing children that will continue to expand my LO family, but I am still so very sad to say goodbye.  Special thanks to all the children for learning our new school song to surprise me and to the PTO for the beautiful reproductions of student art.  I will treasure my memories of this school.
One of the parents requested that I post my Fifth Grade Celebration speech here and I am happy to oblige – I believe it accurately conveys my feelings at this moment in time.  Have a fantastic summer and know that you are a special and amazing school community.  With love and fondness ~ Sara
*******************************
5th Grade Celebration 2016
In thinking about what I wanted to say to you today – besides how much I am going to miss you, how I have such faith in your ability, and how I am excited for your future years – I came to a couple realizations.
This may be the only time you see me in a Lakeridge Junior High School Shirt

We are going to middle school together! TOGETHER we are moving on to the next level.  And with that comes some sadness mixed with excitement.
Nearly every day one of the Hallinan students – especially the younger ones – comes up to me with wide and honest eyes and asks me directly, why are you leaving us?  And quite frankly, it is a good question that I struggle to answer.  I usually don't know exactly what to say.
You have spent the last six years in an elementary school (I have spent 18).  For me the beauty of Hallinan and elementary school in general is the joy we take in watching our youngest children grow to be in the place that you are now.  I would be willing to bet that many if not all of you have fond memories of being in Kindergarten and exploring the world of school for the first time – whether it was the first time you had hot lunch or when your dad came to school as the mystery reader, reading with your big buddy that seemed SO OLD or coloring a picture with brand new crayons.  When you return to Hallinan to visit in future years, these memories will come flooding back, just as they will for me.  You'll remember the friends that made you feel like you were a part of something great and the teachers who were determined to help you be successful.  The halls and the hexamid will look smaller, and the work on the walls will look simple.  But in reality – they haven't changed.  YOU will have changed.  You will be bigger.  You will be wiser.  You will be more confident in your ability to lead and experiment and learn.
And that is the reason why we all have to go.  
We are leaving for middle school because it is the next step we need to take to grow ourselves into better people.  We are going into a world together where we are unsure of what our day to day will be like or how we will navigate the new expectations.  We are probably all a little concerned that all these new people will like us.  I mean – WE know we are awesome – but these are complete strangers!  Or we might be worried that the work might be too hard or that we might get overwhelmed at times and we will be too shy to ask for help when we need it.  
It's sorta scary for us.  It's a big risk.
But to go along with that, there is an excitement about how are are going to change in this new world.  We are certain to have new experiences that are fun and challenging – and you know I love a good challenge!  We are going to be in interesting classes with topics that are specific and alluring – I for one cannot wait to go sit in the Architecture class!  I honestly think about it on almost a daily basis.  We are thinking about what it will be like to actually do lunch in a cafeteria.  I'm guessing this is more of a concern for me rather than all of you.  For you – how awesome!  Literally ten times the kids around you to socialize with and get to know. How fantastic will be to have lockers?  Students – I actually have my own bathroom in my office!  We will all be decorating!  
But more importantly than that we know that we will be changing on a whole other level.  We will begin to become improved versions of ourselves as we push ourselves to learn and grow within a brand new environment.  And in front of many other people's eyes, we will fail in ways that feel devastating and we will have mini successes that feel like we are on top of the world.  And so it goes as we continue on our journeys.  The one thing you can count on is constant change – either the ones we make happen or the ones that just happen to us.
There is a famous lyric from the musical Wicked that says,
I've heard it said,
That people come into our lives
For a reason
Bringing something we must learn.
And we are led to those
Who help us most to grow if we let them.
And we help them in return.
Well, I don't know if I believe that's true
But I know I'm who I am today
Because I knew you.
Like a comet pulled from orbit
As it passes a sun,
Like a stream that meets a boulder
Halfway through the wood.
Who can say if I've been changed for the better
But because I knew you.
I have been changed for good.
Hallinan has changed us for good, and middle school – on both sides of the lake – will as well.  And when any of those five or six years olds ask us why we are leaving, we can now tell them that we have to go so that we will continue to grow and be of service to others. This is what every person in this room is hoping for us as we take this step together.
Congratulations, fifth graders.  I will miss you, and I am so very proud of you!